Growing Old, Stave Off Ill Health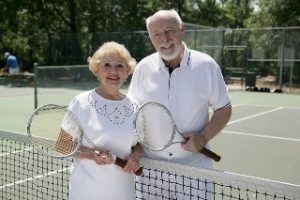 Part of life is growing older and we should all plan for that stage of our lives. The good news is that with correct lifestyle choices and planning, the later years can be just as much fun as any other part. The first and most important step in this process is aligning your beliefs with this reality.
What do I mean by this? Well if you believe that when you get older you won't be able to do much, will spend a lot of time sitting in a chair because moving around is too painful and you will need a cocktail of drugs to keep you going, then probably that will all come true for you. If on the other hand you believe it doesn't have to be that way and that you can still be active, healthy and enjoying life then probably that's how it will be for you. The reason for this is that the mind is immensely powerful in determining outcomes. And if you strongly believe something, your mind will subconsciously move you towards decisions that support that belief.
I once spoke to someone who said 'I'm 50 now and I need to slow down' and guess what, she visibly aged as all her thoughts supported that belief. On the other hand, I know people who are in their late 80's who go to the gym and swim three times a week, run to the shops and take no medication and never have. And they see no reason for anything to change.
So, my advice is to really think about what you believe because that is likely to be your future. Question your beliefs. Ask yourself why is it that different countries have widely different life expectancies. Why is it that some countries have much lower risks of cancer than the UK has. Your beliefs will be based on what you learned as a child and what hear and see is normal around you. But what is normal here is not normal elsewhere. Understand this and you will be more open to questioning and changing your beliefs.
It's your life. You reap what you sow.
If you found this interesting and would like to know more, get a copy of 'The Mind' at the clinic and ask about the 2018 Seminars and Meditation classes.